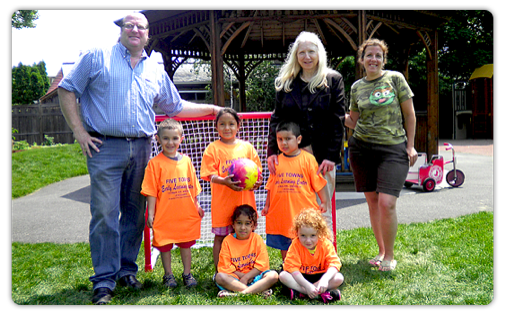 Eric Keslowitz, of the Board of Directors for Five Towns community Chest, made bright orange t-shirts for all the children. When we go on trips it is easy to identify the children from the Early Learning Center.
The Five Towns Community Chest has partnered with the Five Towns Early Learning Center to help families afford quality early childhood education and make a difference in children's lives. Community Chest has been an important part of the Center family since 1952. The Center is the beneficiary of their generosity in many ways. Recently, Chest helped 10 Center children to be prepared for school by supplying each with a book bag and school supplies. In December 2011,
Chest gave cash grants to 15 Center families in need of help for housing,
heat, clothes and food.
Chest truly live its motto:
"Neighbors Helping Neighbors"
For more then 40 years NCJW has been a co-sponsor of the Child Care Center. We have been the recipient of their very generous financial support for many many years. The support of NCJW has enabled us to provide scholarship support to hundreds of needy families who could not afford the high cost of quality child care. In addition to their financial support, NCJW helps us in countless ways:
Volunteers from NCJW are an integral part of each classroom, volunteering time each week to work in the classrooms with the children. Vera Schwartz, a NCJW volunteer, has come weekly and played guitar with the children for the last 14 years.
NCJW sponsors a visit with the Dentist; Hands are not for Hitting program and other enrichment activities.
NCJW volunteers have become board members and even our much loved Director Emeritas, Bernice, started at the center as a volunteer.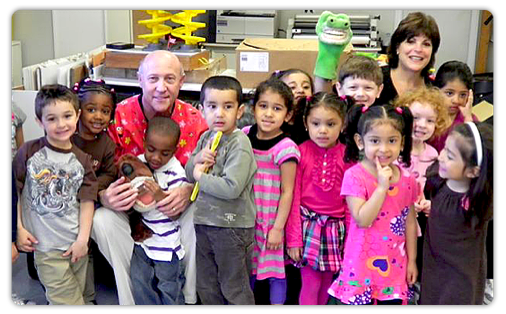 Our friends at NCJW, Peninsula Section make sure that our teeth have a health start with the yearly Dental Screening. Dr Joe Brofsky and Dena put on a puppet show before the screening and give each child a toothbrush to take home.
Become a Volunteer
The Five Towns Early Learning Center offers volunteer opportunities for members of the community. Volunteers from NCJW, Peninsula Section are an integral part of our program, coming weekly to work with the children. High-school students and those who need community service, can find volunteer opportunities here. If you enjoy being with young children, are interested in reading stories to children or would like to share your talents with us, please call the Center at 239-4660. Our volunteers find that what they get out of the experience for exceeds what they give.
How To Donate
Your generosity has a direct impact on the lives of young children. The Five Towns Early Learning Center is a not-for-profit (501c3) organization which depends on support from foundations, government agencies and individuals to fulfill its mission. Your donation is tax deductible in accordance with the rules and regulations of the Internal Revenue Service.
Five Towns Early Learning Center
112 Wahl Avenue
Inwood, NY 11096
Tel: (516) 239-4660
Fax: (516) 239-4910
Contact Us Form